Hi,
Eid began on monday.we are celebrating now. the first day we kept in house many guests visited us,friends relative.after every eid prayer the we and neighbours gradulate and visit each other.my brother and sister came with their families.the guests didnt stop flowing until afternoon.at about 6p.m. i went to the wedding party of our neighbour. it was a nice one.every one was dancing and laughing. i saw many boys and girls who grew up. my sister's family stayed,the next day we went to manny neighborhoods in baghdad just hanging over. at night we went to Al-Rubei'y street. i like it because the shops are great and its the only one without concrete barriers on pavements and the people their are more motivated than other where you find trush,concrete barriers,just like chaos!!.there were horrible traffic jams everywhere bcoz of the checkpoints.
we had supper at blue sky restaurant and sat outside on the balcon that you may see the whole street.i took pictures and videos to share them with you.
i cant upload the video right now, video of people were gathered around a DJ as in above pic and dancing.with all these celebrations, they were scared of suicide bombers. i heard some parked their cars in a garage to avoid sticky bombs,and the park owners said to us"we are checking every car because the sticky bombs are increasing these days"
A group of boys came with a horse.they were shouting, a real mess ocurred..one of the government superiors came and the road was closed by his armoured hamvies and men. annoying.thanks god both of the two didnt last long.
today is the third day and we are giong to a wedding party too.Im wishing to go to many places but im limited to few ones,one of the causes are the closed roads,i used to see every destrict in baghdad but now if you pass through a way next week you'll find it closed.without mentioning the ruined ones.
i planned to write the post last night but i was tired and felt asleep.
i will continue later.i have to go now,sorry the post contain many mistakes.
B.D/B.D/B.D/B.D/B.D/B.D/B.D/B.D/B.D/B.D/B.D/B.D/B.D/B.D/B.D/B.D
At last,i finished uploading the video: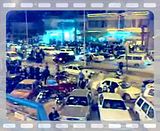 i went to the wedding party and didn't wait till the end.i kept playing with my lovely nephews that night.next day,thursday,i woke up late,had breakfast at about 12!!.guests came and kept for lunch.i decided to go to Al-Karrada afternoon,but my parents adviced me to avoid passing there because from time to time explosions occurred,they were worried so the plan failed.anyhow, i couldn't keep at home and just watch t.v,so i went to many neighborhoods in Alkarkh side of baghdad.
today (friday) another plan cancelled :),i intended to go to Babil hotel swimming pool but my father said that a father of a friend died. so i cancelled it and will go to the funeral with my brothers.
i missed my friends.i have few friend now not exceeding fingers of a single hand.while before war in any street or a quarter in baghdad i had manny friends in. the dentists at work i didn't know them well,not yet.